If a vessel sinks and survivors make their way to a lifeboat, the lifeboat radio may be the sole means of communication. The lifeboat radio is designed to float and is colored orange for maximum contrast with the ocean's surface.
When in use, a ground wire is hung into the water and the antenna is erected, Instructions are included with the radio. The radio is hand crank powered for transmission and reception. Communication is by Morse Code (Telegraphy). Transmissions may be automatically keyed or keyed by the operator.
Operating frequencies are 500KHz and 8.364MHz. Operation in automatic mode on 500KHz will generate an alarm on receivers. The lifeboat radio receives signals in code as well.
Radiomarine Corporation of America – Model: ET-8053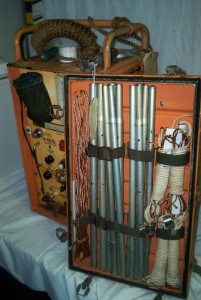 Manufactured by: Radiomarine Corporation of America
Model: ET-8053
Date of Mfg: Nov 1953
Transmitter: 500KHz and 8364KHz
Receiver: 492-508KHz and 8250-8750KHz
Transmitter Input Power: 20 Watts