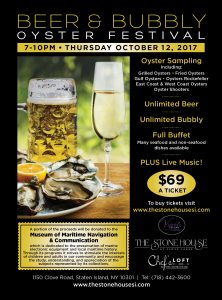 The Museum of Maritime Navigation and Communication is having its first public fundraiser! established in 2011, MMNC holds an absolute charter granted by the NYSED as an educational not for profit museum. MMNC is unique is all its exhibit
ions, programs and its pieces.
This fundraiser is to help stimulate the knowledge of the those in various communities as well as to help support upcoming capital and exhibitoons programs. MMNC is a rare one of kind museum with a vast knowledge of a historical time in not only Staten ISalnd history but in Global History. the Maritime industry had a big impact on the economy providing various forms businesses and recreational fun.
This event does offer NON-SEAFOOD items as well. We hope you will come support us on our first event as well as get to know more about us!! The fundraiser will include surprise entertain and a selected unique piece from our collection! To learn please contact us info@mmncny.org